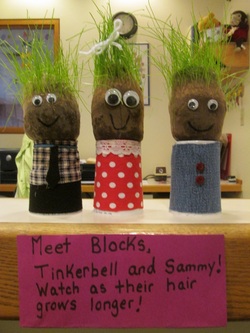 Make Your Own Grass Heads

Supplies:
2 tablespoons grass seed
Nylon stocking foot
1 cup potting soil
Plastic yogurt container
Water
2 Beedy eyes
Permanent market
Double-sided tape
Material, craft foam, card stock for clothing
ASSEMBLE: Spoon the grass seed into the stocking foot, and the potting soil on top of the seed. Tie a knot in the stocking, leaving the excess fabric hanging. Attach beedy eyes to the head and draw on a mouth with permanent marker. Decorate the yogurt container by taping on clothing made from card stock or other materials. Fill the yogurt container halfway with water and place the stocking head on top with the nylon tail in the water to serve as a wick. (Be sure to keep water level in the yogurt container at least half full.