ABOUT US
Columbia Child Development Program is a private non-profit agency run by a volunteer Board of Directors. Established in 1972, our program has grown from a small single-purpose agency serving a few children in Bloomsburg, to a multi-purpose agency providing a variety of services throughout Columbia and Sullivan Counties.

CHILD CARE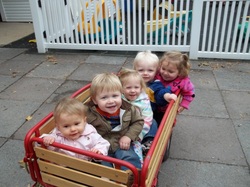 Columbia Child Development Program provides
Child Care
at the
Bloomsburg Children's Center,
located at 215 East Fifth Street, in the heart of downtown Bloomsburg. Our child care program is NAEYC accredited and Keystone STAR 4 rated.
We provide quality child care services for children from six weeks to twelve years of age in an extended child care program. CCDP staff have extensive education, experience, and participate in ongoing training that exceeds Penna. Department of Public Welfare standards. All staff are required to obtain the following clearances: Pennsylvania State Police, Child Abuse, and Act 73 FBI.
---

HEAD START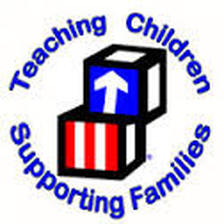 The
Columbia-Sullivan Head Start
services provide a comprehensive program to preschool children and their families who are eligible based on income. This NAEYC accredited program is federally and state funded and designed to help children develop skills which will lead to school and later life success, through a center base, home base, or combination option program and a variety of support services. The Head Start staff is comprised of degreed personnel and trained paraprofessionals.
---

Providing services to families with young children in the best possible setting is the purpose of Columbia Child Development Program. As the needs of families continue to change and grow, the agency will pursue quality programs to meet those needs.

Columbia Child Development Program continually keeps in mind the needs of families with young children. Child Care and Head Start work closely together to provide services for children. This partnership approach creates a seamless day of service for young children.

Columbia Child Development Program is committed to providing equal educational and employment opportunities for all persons without regard to race, color, religion, gender, age, national origin, ancestry, lifestyle, sexual orientation, disability, or any other legally protected classification. The Program is additionally committed to affirmative action and will take positive steps to provide such educational and employment opportunities.

Board of Directors
Brandon Ortman, President
Oren Helbok, Vice President
Bruce Bowman, Treasurer
Ashley Mensch, Secretary, Trustee
Bernie Landers, Trustee
Joan Mosier, Trustee

Adelaide Benson
Tina Welch
Sylvia Costa
Twilla Dowell
Robert Defeo
Tim Kritzer

Lisa Makara
Lynne Pabst​
Angela Pang
Lissa Bryan-Smith
Kelly Swisher
​



The Board of Directors meet on the first Tuesday of each month, at 5:30 pm,
at Wesley United Methodist Church, 130 W. Third St., Bloomsburg




The official registration and financial information of Columbia Child Development Program may be obtained from the Pennsylvania Department of State by calling toll free, within Pennsylvania, 1.800.732.0999. Hearing impaired call 711. Registration does not imply endorsement.